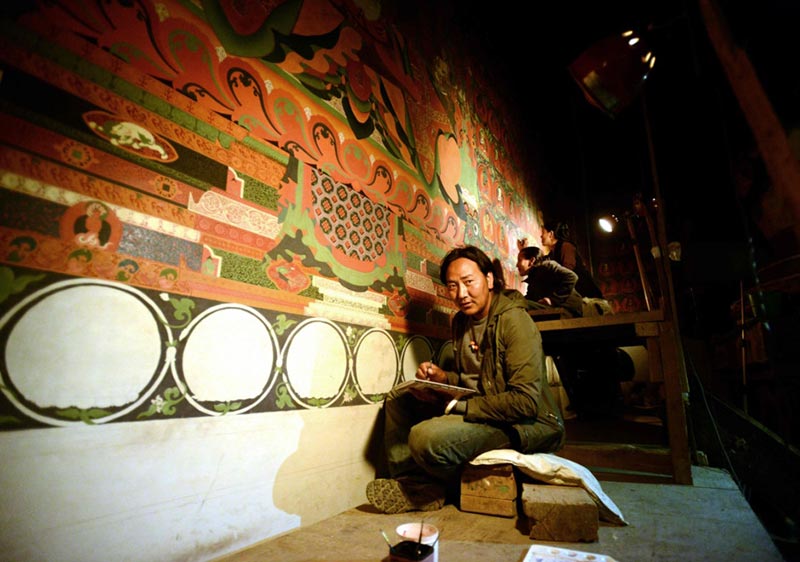 Buddhist Artists Restore Historic Tibetan Murals in Nepal
By Craig Lewis | 2016-08-11 |
In the remote region of Upper Mustang, high in the rugged Nepalese Himalayas bordering Tibet, Buddhist artists are locked in a painstaking race against time to restore unique centuries-old artifacts of Tibetan Buddhism, many of which were damaged in last year's devastating earthquakes, and others that, though they survived the earthquakes unscathed, still bear the scars of the ravages of time and the harsh Himalayan climate.

The massive quakes that struck Nepal on 25 April and 12 May last year killed more than 8,500 people and displaced millions more with the destruction of hundreds of thousands of homes. The devastation also extended to hundreds of ancient buildings, monasteries, and temples across the country. An early assessment by Nepal's Department of Archaeology suggested that more than 400 historic monuments in the Kathmandu Valley were damaged, while at the national level, an estimated 2,900 sites of religious and cultural significance were damaged or destroyed.

In Upper Mustang, many ancient structures in the walled capital of Lo Manthang were weakened by the temblors. Among them the 15th century Buddhist monastery Jampa Lhakhang, which has the world's largest collection of mandalas painted on its walls, sustained severe damage. The monastery's plaster walls cracked and crumbled under the force of the tremors, fragmenting many of the 500-year-old murals. The earthquakes also ruptured the main drainage system, allowing water to penetrate the walls.
Among the artists working to restore this valuable cultural heritage is 32-year-old Tsewang Jigme, who has spent years preserving traditional Tibetan culture. "These murals are irreplaceable," he said. "I feel nervous every time I touch them, I know I need to work very carefully so as not to do any harm to them." (South China Morning Post)

"Compared to Tibet, where so much was destroyed [in the 1959 Tibetan uprising and during China's Cultural Revolution], we have been very lucky," Jigme observed. He recalled years earlier helping to restore murals at a Tibetan monastery in China's Sichuan Province, which had been buried under mud by local residents decades before to protect them from destruction. "It took a long time to remove the mud but slowly the face of god revealed itself . . . and all the old villagers watching us began to cry," he said. "They did whatever they could to save those paintings . . . now we have to do whatever we can to protect our heritage." (South China Morning Post)

The restoration in Jampa Lhakhang, directed by the American Himalayan Foundation, includes injecting plaster and glue to strengthen the walls, then cleaning and retouching the religious murals. The work being done is not without its critics, with some historians saying the restoration techniques—although being carried out with respect to traditional methods and with reverence for the murals themselves—is altering the historic paintings, and that new murals being painted on sections of wall where the originals have been destroyed are creating barriers to further study. However, local culture dictates that undamaged murals and representations of the Buddha are more important to the Buddhist practice of local residents than preserving damaged relics of the past.

"Call this painting, not restoration or conservation," said project director Luigi Fieni, noting that restoring the artwork recognized its role as part of a living Buddhist practice, rather than what he described as the Western "colonialist" approach of preserving the old above all else. "While working and living within the community, I changed my point of view, and I decided to follow the needs of the culture I was working for." (The New York Times)