Threads of Tranquillity in the Paintings of Trang T. Lê
By Meher McArthur  | 2016-06-10 |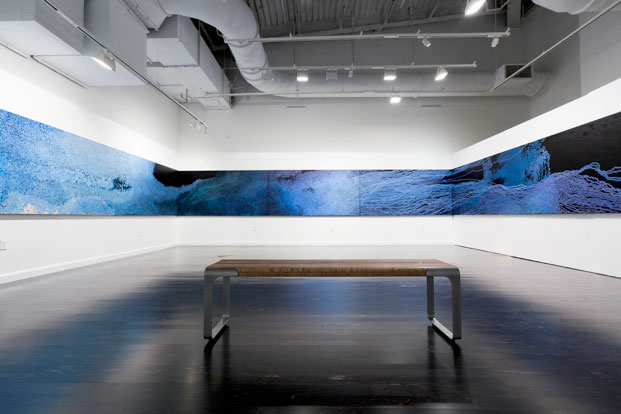 From 2006 to 2010, Vietnamese American artist Trang T. Lê undertook a monumental artistic and spiritual endeavor. On a series of seven horizontal canvases measuring 56 feet in length, she meticulously and mindfully painted 111,978 tiny spirals, each representing the death of a soldier or civilian in Iraq since the US-led coalition invaded the country in 2003. The dots built up to form a long, ghostly blue wave that stretches its threadlike fingers across the long, dark canvases. As she painted each circle, she recorded the names and dates of all the lives that were lost and thought of the individual who had died. The process was at times deeply painful and exhausting, but the intense repetition of a single form was also highly meditative, and when she finally completed this intricate wave of souls, she found herself healing from the pain not only of the Iraq War, but also of the war of her childhood in Vietnam.
Lê's painting, titled 111,978, exemplifies her spiritual approach to art-making—a meditation in paint on canvas upon the horrors and waste of war, both the war in Vietnam, which forced her family to flee across the world, and the war in Iraq, which took the lives of many Iraqi and American soldiers and civilians. This meditation has its roots in her own origins in the Buddhist culture of Vietnam. Lê remembers visiting Buddhist temples occasionally as a child there, but it is perhaps a memory of her mother's prayers to the Buddha that imprinted on her psyche and later on her artistic process. Her family had lived a comfortable life in the coastal town of Nha Trang, but after the fall of South Vietnam in 1975, they struggled and her father disappeared for long periods of time. Every night Lê would hear her mother crying and praying to the Buddha, chanting repeatedly until she fell asleep. After several years of poverty, fear, and uncertainty, she escaped with her parents, two brothers, and a sister on a boat to Thailand.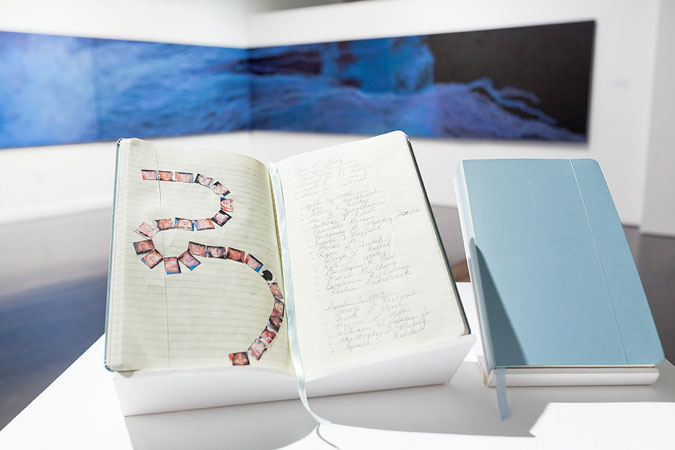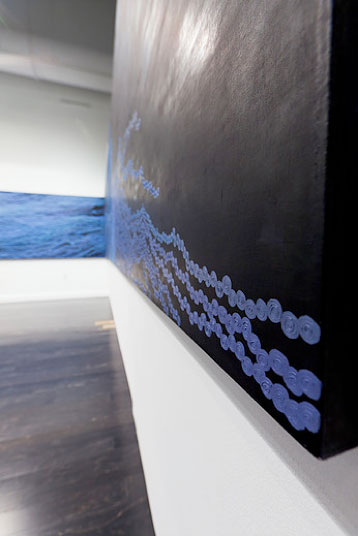 In 1982, Lê's family eventually relocated to California, where, despite her family's resistance, she eventually pursued her dream to study art, receiving her MFA from Claremont Graduate University in 2006. Over the past ten years, she has become known for her calm, ethereal abstract paintings, made up either of thousands of circles or of a single line that weaves back and forth across the canvas, as in the "Threads" series discussed below. Both genres are artistic expressions of painful personal journeys she has taken, as an adult as well as as a child.
In reviews of Lê's work, several American critics have described her artistic process as obsessive, a word that suggests an anxious, impatient state of mind. However, Lê describes herself as a patient artist and says she finds painting to have a calming, healing effect. "Art gives me the vehicle to travel through another state of mind," she explains. In Buddhist cultures, the practice of meditation might involve writing out row upon row of religious text, chanting a mantra or sacred phrase over and over, painting Zen circle after Zen circle, or walking round and round a holy monument, so with her repetitive markings, Lê is doing what many Buddhists have done before her to attain a state of calm—focusing intently on a repetitive and meditative act, leading to a deeper personal understanding. "I don't know how to use the technique of meditation like monks do," she adds, "but I do it through the process of painting. I experience what the monks do."
In Lê's more recent "Threads" series of paintings, she uses the image of a thread winding back and forth in a similar rhythmic, contemplative fashion. To Lê, the tiny circles of her earlier paintings have unraveled in this series like balls of yarn, each thread stretching out and making its way carefully across the canvas. With a steady, controlled brush, Lê delicately guides a single strand of thread from one edge of the canvas to the other. As it reaches the far edge, the painted thread turns and starts its path back to the other side, over and over again. Many of the thin lines run parallel across the composition, but in places they stray to the left or right, leaving gaps reminiscent of a stretched-out section of loosely woven gauze. In the luminous painting Day 5, the irregularly grouped blue lines resemble bundles of freshly dyed indigo threads being prepared to be woven on a loom, and in Mom's Scarf, the suggestion of a tattered silk scarf alludes to the many trials her mother endured before and while escaping Vietnam. As with 111,978, which helped Lê process the traumas of childhood as a war refugee, these paintings helped her process the pain and complex emotions related to her divorce. To accompany this series, she wrote a poem explaining the powerful, healing symbolism of her threads:
"All I've got is this thread to hold on
I don't want to fall, holding on to it
With a paint brush, painting day by day . . .
Hoping with time, it will pass
Then it takes me to the colorful night after the rain."
Lê's recent "Quiet Thoughts" series also ponders the healing power of the art-making process, how her painting meditation has helped her on her journey through "nature, struggles, love, loss, and war." In works such as Ocean Waves, the soft, undulating lines built up by the series of tiny circles remind us of the artist's perilous journey across the sea, carried across the waves to the safety of a new life. The row upon row of lines formed by dots also suggests an emotional journey, one moment at a time, through an ocean of pain, joy, and fear. As Lê mindfully applies each dot of paint, creating a rhythmic repetition of hundreds of painted circles, we sense the echoes of a prayer repeated over and over again in the uncertain night.